Offshore Races
The 2005 Annapolis-Newport race was near-perfect conditions. Breeze 10-20 knots generally out of the south the entire time meant a beat out of the Bay, followed by two and a half days running downwind under spinnaker. Unfortunately, as much fun as we had on Air Mail, our little frac-rig spinnakers couldn't compete with the Swans and J/120s with their massive a-syms. As the slowest-rated boat in PHRF 1, we were next to last. Had we been bumped down to PHRF2, we would have been second. Oh well. Taking just over three days, the 2005 Annapolis-Newport race was over seemingly before it started, unlike the previous year's Bermuda race, where Monday night wasn't even the halfway point.

Far 395 Upgrade
24 hours into the race

Ian driving

Awwww
Chilly Block Island day

Closer than most people ever get, and we passed one underway. Los Angeles-class submarine.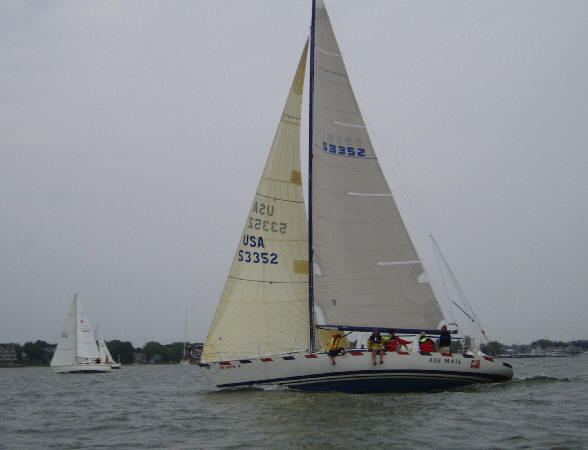 Photo courtesy Carolyn Irvine
I had the opportunity to sail with the 1984 Beneteau 1-ton Air Mail in the 2004 Bermuda Ocean Race, a 751 (or 753, or 756, depending on which part of the race web site you read) race from Annapolis to Bermuda.
The race began Friday, June 11, at 1405 EDT, in 20 or so knots of wind with an offwind start. As the new guy on board, I was relegated to "leeward runner releaser" for the prestart maneuvering, then rail meat for the spinnaker reach/run down the Bay. For the first 4 hours of the race, everyone was on deck and available. The regular watch rotation was set to begin at 1800 Friday night. Angus Phillips, my watch captain, a guy w/ lots of offshore racing and sailing experience and a sports writer for the Washington Post, started out trimming the chute.
After a few hours, it was my turn to trim. Ever try trimming a chute that big in heavy winds your first time out? I didn't do anything wrong, didn't have it collapse any more than he did, it's just hard to know where the real "curl" is and when the fake curl is. That happens when sailing on any new boat, it's just exacerbated in heavy air. Oh well, no time like the present, right? So I trimmed for a while.
The run down the Bay was exciting and fast (and cold and wet), and I spent most of the time thinking "What the hell am I doing here? Five days on this damn boat?" I was plenty dry inside my foul weather gear, but wishing I had put more clothes on underneath from about 5 minutes before the start. We went off-watch at 10 PM, only to find the cooler (a huge cooler we used for drinks) and its base had jumped a few inches, and looked dangerously close to dumping all the way (and probably damaging the hydraulic transmission on board too). I spent a few minutes helping the guy who designed the system, Ian (who also served as our bowman), figure out how best to secure it, then promptly ran to the head to throw up for the first time. I knew spending time below was going to give me trouble, but I decided to try anyway. After that, I hurried up out of my foul weather gear and crawled into my bunk (starboard side, upper berth). "Ok when I wake up in 4 hours, it'll be one 12-hour period down, 9 to go..." Since I'd only had an hour or two of sleep the night before (between buying gear, packing, getting the laptop ready, and getting to the boat on time), and even though it was really only my first time sleeping aboard a boat under sail, I passed out quickly.
Saturday, June 12, 0200
Still in the Bay, way further south than I had sailed before (do I sound like I had limited experience? ...), still broad reaching under #3 and full main in 20+ knots TWS. Since Air Mail is pretty cramped below (I still need photos of the interior), and we were all still getting used to the boat, there was a lot of standing around waiting for a chance to get dressed, getting in each other's way, that sort of thing. Always fun to be below in a bouncing, cramped boat. Especially after you've been seasick. So we got in our foul weather gear, inflatable harnesses, etc, tethered in to the boat, then crawled on deck for my first real watch rotation. As far as I know, it was still raining, but I didn't look up that much since I had the hood on the whole time to keep the waves out.
Next to come: the gulf stream...